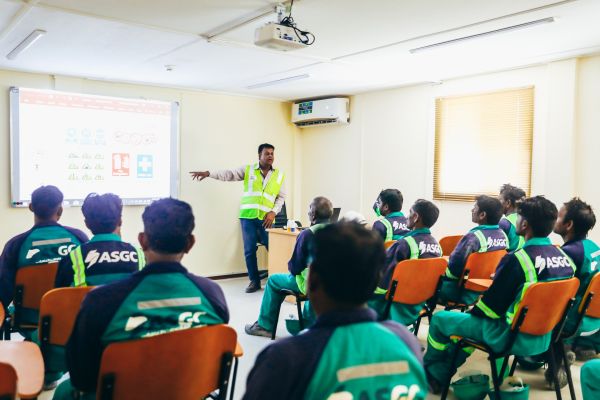 ASGC says Labour Academy has target to train 400 plus workers per month by the end of 2018
ASGC, the UAE-based construction group which has worked on major projects including the expansion of The Dubai Mall, has launched a Labour Academy which upskills hundreds of workers each month.
The academy is part of the company's expansion of its internal training and development initiatives to keep its growing workforce on the cutting edge of technological and engineering advancements.
ASGC said the academy is now operational and is covering various construction trades with a target to reach the full capacity of 400 plus trained workers per month by the end of 2018.
It added that the aim of the Labour Academy is to provide development programs that improve the capabilities and skills of ASGC's workforce while at the same time opening doors to career progression.
The academy launch comes as recent reports suggest that sentiment around the future of the UAE's construction industry has improved year-on-year, with the Gulf's largest construction markets set to grow in 2018.
At the same time, the industry is rapidly evolving, with digital automation already influencing the skills and types of jobs required of today's workforce.
According to ASGC, this is creating a skills gap in the way that technical professionals across the region approach project planning, execution and supervision within the construction industry.
As a result, the company, which has also worked on landmarks such as City Walk, Etihad Museum and the Waldorf Astoria – Palm Jumeirah, is placing additional investments into a number of programs for continuous learning and development.
Another of these is the ASGC Employee Academy which first launched in 2017 with the aim to provide young, talented construction professionals across each of the company's departments with the education needed to help them progress more rapidly.
In the area of academia, ASGC has also bolstered its Post-Graduate Education program, which have been running for several years.
"As the UAE transitions towards a knowledge-based economy, the construction field is also evolving so that projects can be done smarter and more efficiently than ever before," said Bishoy Azmy, CEO of ASGC.
"Across the industry this means a shift in skill sets required. It is our responsibility to ensure that the workforce of the future not only has the necessary skills for employment, but the ability to make a meaningful contribution to the wider community."

Source: arabianbusiness.com