Regional industry experts highlight the growing demand for fit-out projects in the tourism and commercial sectors owing to the upcoming mega events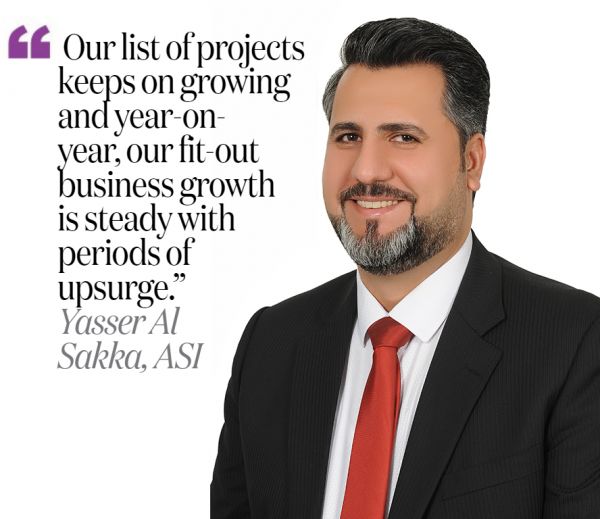 According to a recent report by Faithful+Gould, the UAE fit-out sector is forecast to reach $973.4mn by 2022. Despite recent challenges in the market due to fiscal pressure from falling oil prices, there doesn't seem to be any slowdown in the project awards, with investment rising by $2bn from 2016. The entire GCC, especially the UAE and Saudi Arabia, have witnessed a growth in
real estate and infrastructure projects, owing to the Expo 2020 and Vision 2030 respectively. One of the leading fit-out contractor in the region, ALEC Fitout, is currently working on a variety of projects on site, primarily in the hotel, retail, and residential sectors. Tom Gilmartin, business development manager at ALEC Fitout, says: "Earlier this year, we completed Marina Gate Residencies Tower 1, where our scope included the complete fit-out for 399 units (apartments, penthouses, and villas). Our team is on site for Tower 2 and Tower 3. Upon completion, the Marina Gate luxury residential development will have approximately 1,400 units.
"Providing complete fit-out and refurbishment solutions for hotel guestrooms and public areas is our core business. We are currently delivering five-star hotels' fit-out and refurbishment projects for key clients and operators such as Meraas, Emaar, Waldorf Astoria, Address Hotels, and One&Only Resorts." Owing to the impressive line-up of projects, Gilmartin points out that the / company targets continued turnover and profit growth in its business year-on-year. "We have a strong order book for this year and are targeting works now for 2018-19 completion." Within the GCC, hospitality and leisure still remain a key growth area,
Particularly in the run up to the Expo 2020. Currently, there is an increased focus on refurbishments as clients look at reinventing space rather than building new structures. Last year, the region saw several awards for hotel refurbishment projects to cater for the growing demand from both international and regional tourism.
One of the reputed names in the fit-out market, ASI, has recently expanded to accommodate more design and turnkey projects. Yasser Al Sakka, general manager, ASI, says: "Our list of current projects includes high-rise developments in Dubai's Jumeirah Lakes Towers OLT), including five-star signature hotel and residences; residential buildings at the Bluewaters project; a couple of luxury high-end villas in Palm Jumeirah; the prestigious Coca-Cola Arena project; Mediclinic Hospital; Green Community villas; a high-end fashion retail in new Dubai Mall extension; and an ongoing fit-out interior works negotiation for classified five-star hotel.
Our list of projects keeps on growing and year-on-year, our fit-out business growth is steady with periods of upsurge. Nevertheless, we are expecting a 15-20% rise for our industry by end of 2018 as our country gears up for Expo 2020."
According to market analysts Ventures, the interiors industry for the residential sector is valued at $3.6bn, followed by hotels at $2.1bn, commercial real estate at $1.1bn, retail at $872mn, hospitals at $410mn, and education at $339mn. Dimitri Papakonstantinou, managing director at Plafond ME, mentions: "As there is currently a fair amount of activity around the Downtown and Dubai Creek Harbour areas, the majority of these projects are focused on the residential and hospitality sectors. As main contractors and clients try to keep costs down and reduce duplication of margins, many of the trades are split into single trades with only more specialised areas such as lobbies, restaurants, spas, etc. being tendered as complete interior design fit-outs.
"As we deliver both single trades and turnkey fit-outs, we have received a fair amount of enquiries on both. Some of the other projects which we are seeing a reasonable amount of RFP's are Expo 2020 related works as well as retail, food and beverages (FRB), and lounges for the Midfield Terminal in Abu Dhabi." The company is currently working on the full fit-out of the Opus Hotel, serviced apartments, and front of house (FOH) areas. Papakonstantinou points out that this is one of the company's key projects for the year and is due for completion early 2019. Other projects that the contractor is working on is the Museum of the Future, Al Maryah Mall, Mohammed bin Rashid (MBR) Library, Wafi extension cinemas, and One the Palm.
He continues: "Over the last three to four years, we have experienced a significant growth in both our fit-out and mechanical, electrical, and plumbing (MEP) divisions. We have had a growth of around 50-85% between 2015 till 2018."
In the run up to the important events being held in the region, industry experts opine that value engineering is a leading trend in the regional fit-out market. Gilmartin says: "ALEC Fitout has extensive experience in successful delivery of high-quality solutions at a cost-effective budget through the effective use of value engineering and design optimisation — our estimation, technical and design teams work closely with the client and consultant teams in order to achieve their budget without impacting the quality or aesthetic of the finish. It is important to note, however, that the formal approval of value engineering items can impact on the program and as such, wherever possible, value engineered savings should be agreed in advance as part of the bidding process."
Agrees Papakonstantinou from Plafond ME. He also mentions: "As the market still remains very competitive and with both developers and contractors being cost conscious, value engineering is a key element to winning works. This often varies from change of material specification to a more fundamental re-design. I believe the main focus will still be on residential and hospitality projects this year with some of the Expo 2020 related fit-out works only starting later in the year or early next year."
In the upcoming years, with price decrease in real estate and with the region preparing for Expo 2020, it is expected to see high demand for residential and commercial properties. Sakka concludes: "Subsequently, there will be more market for fit-out and interior firms along with new real estate projects and refurbishment of existing and facilities."
Read the full edition here: www.cbnme.com