ASGC Awarded Contractor of the Year
MEED has announced the names of the best companies and business leaders in the GCC at the MEED Awards 2018.
Four individuals and 16 companies were recognized for their business achievements and contribution to the region over the past year at a gala awards ceremony held at Dubai's RitzCarlton Hotel on 28 November.
The award winners were recognized for their achievements in environmental sustainability, worker welfare and innovation, as well as the performance of their business over the past year.
Winners included Saudi Arabia's AcwaPower, which was named Renewables Company of the Year 2018, Dubai-based ASGC, which was named Contractor of the Year 2018, and international law firm Clyde & Co, which was named Law Firm of the Year 2018.
Four individuals received recognition for their achievements, including a special award for Eng. Maitha bin Adai, CEO of the Traffic & Roads Agency of Dubai's Roads & Transport Authority (RTA), who received the MEED Editor's Award for Lifetime Achievement.
The MEED Awards
The MEED Awards recognize the best companies in the GCC across all sectors.
The awards aim to promote best practice in business and showcase outstanding performance in key areas of operation such as innovation, worker welfare and sustainability.
The MEED Awards 2018, which are delivered in association with UAE construction giant Arabtec, international healthcare giant NMC and consultant SNC Lavalin, comprise 16 award categories and saw hundreds of entries from companies across the region.
Judging
The judging process comprised two rounds of shortlisting and a presentation by the entrepreneurs or business leaders to the judges.
The judging panel featured senior executives from leading local and international companies including: CBRE; Matthews Southwest; Godwin Austen Johnson; Atkins; Siemens; DLA Piper; The Kanoo Group; Hill & Knowlton; Mott MacDonald; IHCC; Charles Russell Speechlys; NMC Healthcare; Emaar Hospitality Group; Charles Russell Speechlys; PwC; Perkins + WILL; Deloitte; GE Power; Hill & Knowlton; Riyadh Chamber of Commerce; RAK Hospitality Holding; Inspired Results; EDB Bahrain; Sanofi; Colliers International Mena; Acwa Power; and KPMG.
The MEED Awards 2018 winners
Contractor of the Year: ASGC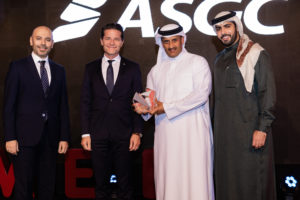 What the judges said: "ASGC stood out in this very competitive category. Judges were hugely impressed by the company's commitment to driving continuous improvement across all areas of activity. Its adoption of cutting-edge technologies, outstanding commitment to meeting the highest standards of sustainability, and impressive safety performance have set a new benchmark for contracting in the region that others must aim to match."
Source: meed.com