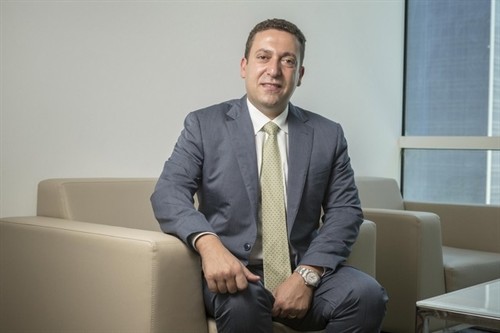 Bishoy Azmy, the chief executive of ASGC, says his company believes that a proper ownership model is a public one.
Antonie Robertson / The National
Al Shafar General Contracting (ASGC), the Dubai builder with a projected turnover of US$1 billion this year, is still planning an initial public offering but it is waiting for market conditions to improve, according to its chief executive.
The 28-year old firm is still keen on the UAE, which accounts for nearly 90 per cent of its business, and is not in a hurry to diversify away from the market, particularly Dubai.
ASGC had initially begun preparing for an IPO during the third quarter of 2015, and had hired advisers to assist with its listing on the Dubai Financial Market (DFM). However, market conditions then significantly worsened and the issue was postponed.
"It's not something that you can switch on and off by the day," Bishoy Azmy said in an interview with The National, adding that its decision to delay had been somewhat justified by the dearth of IPOs.
The last listing to take place on DFM was theme park operator DXB Entertainments, which started trading in December 2014.
Despite this, he said that a flotation was still in the best interests of stakeholders in the long run.
"While we have no urgency to go public, we believe that for a family business [and] long term sustainability of the company, a proper ownership model is the public model," he said. "That is still our long-term ambition, but at the moment we have no immediate plans and we would probably wait for markets to be more receptive for public offerings before embarking on a second attempt."
ASGC was founded by Mr Azmy's father, Emad, and his business partner Mohammed bin Shafar. The company employs 15,000 staff and expects to achieve a turnover of more than $1bn this year, according to Mr Azmy, an Egyptian national.
"That's a slight improvement on last year," he said. "Our numbers from 2013 until now have been going up."
He said that in terms of its governance and its structures, ASGC is already prepared for a listing.
"So we already run with corporate governance that is at least equal to what is required by UAE public companies. We have a board of directors with independent directors, an audit committee, a nomination and remuneration committee, and major decisions are vetted and approved by the board."
Yet the company has not allowed itself to become preoccupied by a listing and has continued to make significant investments in its operations, especially in technological improvements.
"It's a very difficult equation. The best thing to do would be to keep a watch out, but not be biting your fingernails about it either, because then it wears at you," Mr Azmy said.
He said that in terms of its expansion plans, ASGC will retain its current market focus on Dubai and the UAE, where 90 per cent of its operations are, with the remaining 10 per cent spread around the region.
"We have contemplated and studied expansion regionally, but we believe that while that addresses concentration risk, it comes with its own plethora of additional risks," said Mr Azmy.
"So our board has seen fit to accept that concentration risk, but being in a good market which you understand, you are confident of, you know how to operate in, and you feel comfortable with your collections in, probably is an acceptable situation compared to expanding and worrying about losing money."
IPO activity has dried up in the UAE and Gulf region as a whole amid a lack of investor confidence in the equity markets, which have languished with the start of the oil price slide in mid-2014.
According to PwC, last year was the weakest in terms of IPO activity in GCC countries since 2010, with just four listings raising a total of $718.7 million.
However, last month competitor EY said that activity in the wider Mena region picked up during the first quarter of 2017, with nine flotations – up from two in the same quarter a year earlier. Despite this, the amount raised via the issues declined by 39 per cent to $400m.
The firm argued that a more benign economic environment would lead to greater activity in the wider mergers and acquisitions marketplace.
"In the public sector, Mena countries are on track in terms of improved GDP growth in 2017," said EY's Mena transaction services advisory leader, Phil Gandier. "We expect to see a significant uptick in deal activity over the next 12 months.
Curtsey :thenational.ae