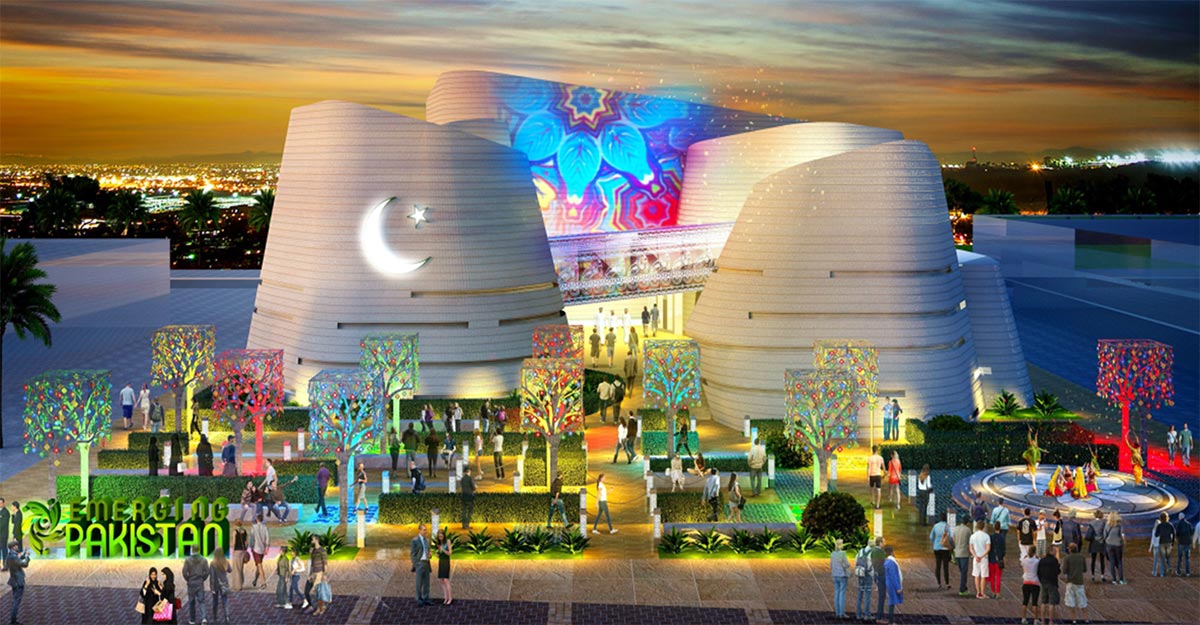 EXCLUSIVE: Construction Week understands from the main contractor, the construction behind the pavilion, based on the theme, 'Emerging Pakistan'
Pakistan Pavilion at Expo 2020 Dubai is currently under the "final handing over stage", with final modifications being made "to ensure an optimum experience for the visitors", the main contractor of the structure — based on the theme "Emerging Pakistan" — has told Construction Week.
It all started in December 2019, when ASGC — which was also the main contractor of Expo's Terra – The Sustainability Pavilion — was awarded the project. Later, construction commenced at the end of January 2020.
Talking to Construction Week about the contractor's scope of work, Bassem Ayaad, senior project manager at ASGC, said: "ASGC was responsible to carry out all the works related to the pavilion, including the structural works, mechanical, electrical, and plumbing (MEP) works, façade work as well as fit-out and landscaping."
A total of 450 workers were deployed at the construction site of the pavilion, during the peak construction period.
Stressing on the how the safety of workers was adhered to, Ayaad said: "A great achievement attributed to all the stakeholders within the project was achieving 703,870 Lost Time Injury-free safe man-hours."
Construction stakeholders of the Pakistan Pavilion, in addition to ASGC, include Khatib & Alami (K&A) as the main consultant; Al Shafar United (ASU) as the mechanical, electrical, and plumbing (MEP) contractor; Al Shafar Interiors (ASI) as the fit-out contractor.
Khatib & Alami is also the architect of record of the pavilion. The structural steel contractor is Khansaheb, with UAE-based Arabian Profile as the façade contractor, and Zener as the landscaping contractor.
Located on a plot area spanning 3,450m2, the built-up area of the project is around 2,900m2. Spread across two floors, the pavilion features an upper and lower roof.
When being asked about the sustainable elements of the pavilion, Ayaad told Construction Week: "By default, the design of the project, technologies used as well as materials selection had to be in line with sustainability targets. Overall, 97% of the materials are compliant with sustainability material guidelines."
So what makes the project important for ASGC, which has also been responsible for the construction of country pavilions, including that of Egypt, Australia, Azerbaijan, Morocco, Palestine, and Ukraine?
"This project enriches the image of ASGC as a major key player in the market. ASGC's strategy of providing in-house services to deliver turnkey projects proves effective with the delivery of such a landmark project," Ayaad added.
Pakistan Pavilion will be a part of Expo 2020 Dubai legacy phase, District 2020.
Ayaad said: "While the project isn't considered huge by comparison to other projects within Expo 2020 Dubai, the project will probably be a part of Expo's legacy.
"The idea of turning it into a culture and economic centre for the Islamic Republic of Pakistan is definitely worth considering," Ayaad concluded.
Source: constructionweekonline.com