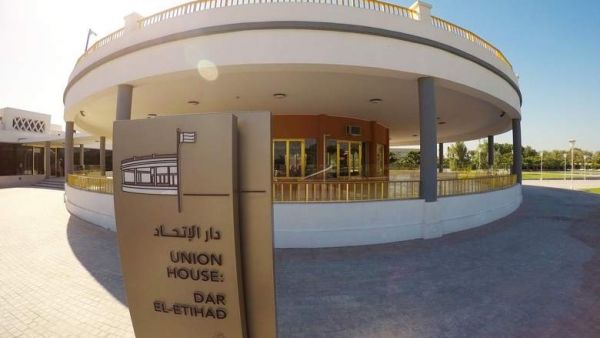 The exterior view of Union House, the birthplace of the UAE on December 2, 1971. - KT photo by Shihab
The oval-shaped Union House has undergone some restoration, but the rest of the museum is all original
Back in January, the Etihad Museum first opened its doors to the public. As the only museum of its kind dedicated to narrating the journey towards the foundation phase of the UAE before the official declaration signing on December 2, 1971, its path to construction was just as unique as the story it was built to tell.
In the space of just 17 months, the 25,000 square metre landmark, which houses three main buildings within the grounds, was complete. Hosting buildings of both old and new, one of the most prevalent when it comes to historic value is the Union House (Dar Al Etihad).
That was the very room in which the seven rulers of the seven Emirates signed a declaration in 1971 that marked the formation of the UAE.
Since that moment in history, the oval-shaped Union House has undergone some restoration and refurbishment work, but the building's exterior shell, including the windows and railings, are all original.
Speaking to Khaleej Times, Yehia Elshahawy, project technical manager for ASCG (the contracting company behind the museum), said the restoration and refurbishment work was the most time consuming. That's because they wanted everything to match the décor from 1971.
"There was no question when we built this museum that Union House had to stay as it was. It has too much history to simply tear down. To maintain that originality but to make sure it stays put for as long as possible, we used a technique called cathodic protection. It helps control the corrosion of a metal surface by making it the cathode of an electrochemical cell. It can protect for anywhere between 50 to 100 years.
"We sourced the materials from India, Turkey and Germany. We first had to send off a control sample of each original item to the sourcing company, and only when we found an item which 100 per cent matched the original, did we import it. A 99 per cent match was not good enough."
Although all the furniture restoration was carried out within the UAE, from the chairs in which the Rulers sat to the table on which the declaration was signed, the interior items, including the carpets, curtains and chandeliers were imported.
"We had a committee from His Highness the Prime Minister's office approving and reviewing each item. Sourcing an exact match was the only way in which an item could make its way through the doors of the museum."
And when it comes to what took the longest to source, it was the wallpaper and carpet, Elshahawy said.
"Both took around 10 months to find. The wallpaper came from India and the carpet, which is coloured gold and maroon, came from Germany."
But with the surrounding buildings, including the Guest Palace (which requires special permission to enter) and the Visitors Pavillion, being new builds, can the historic Union House stand the test of time, given that it dates back to before the 1970s? Yes, he said.
source: www.khaleejtimes.com/