The construction of the UAE's Mohammed Bin Rashid Library (MBR Library) is proceeding according to schedule, with 15% of planned works now complete, according to Dubai Municipality (DM).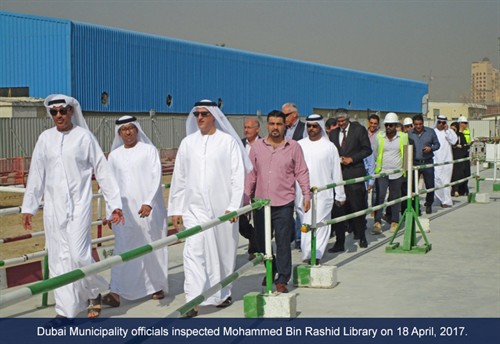 Located on Dubai Creek, the book-shaped structure occupies an area of 66,000m2, and is scheduled to complete by mid-2018.
A $272m (AED1bn) construction contract was awarded for MBR Library last year, and work commenced in September 2016.
The project's main building will consist of a basement, a ground floor, and seven storeys. The complex will also feature a central warehouse for books.
Eng Hussain Lootah, DM's Director General, inspected MBR Library on 18 April, 2017. He was presented with details of the project, its method of implementation, technical issues, and samples of the main materials that will be used to build the structure.
Speaking to the project's contractors, consultants, and engineers during his visit, Lootah emphasised the importance of completing MBR Library within the specified timeframe.
The development will boast laboratories for the preservation of books, the collection and processing of materials, and digital conservation. In addition, it will feature a variety of specialised libraries, including an information centre, a media centre, an Arabic library, an international library, a public library, a business library, a youth library, a children's library, a family library, and a reading corner.
MBR Library will also serve as a venue for cultural and intellectual events, and art exhibitions, according to DM.
The municipality added that the building would feature the latest technologies, making it one of the largest electronic libraries in the world.
Curtsey: Construction week online