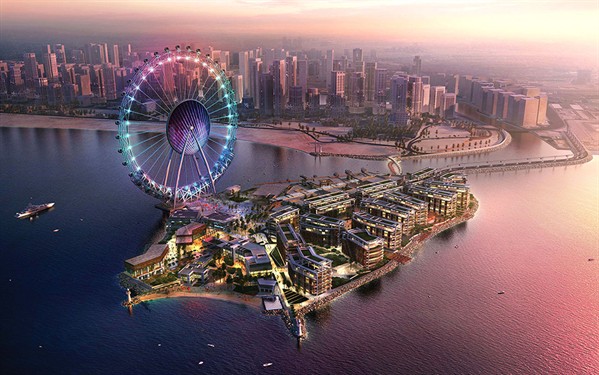 ASGC is working on the Bluewaters Island project off the coast of Jumeirah Beach Residence. Reem Mohammed / The National
The chief executive of Al Shafar General Contracting said the company is turning towards technology to ensure that it doesn't face obsolescence.
And while a business that has traditionally relied on armies of workers pumping truckfulls of concrete may not seem an obvious candidate for digital disruption, Bishoy Azmy says that no company can afford to be complacent.
"What I believe is that every single industry is going to go through massive disruption over the next decade or two. If you want to really survive, you need to transform."
He cites the recent departure of Ford's former chief executive, Mark Fields, as an example; its share price had underperformed because of a perceived lack of investment in new technologies, such as driverless cars. Mr Azmy pointed out that the electric car maker Tesla now has a market capitalisation that is bigger than Ford's (US$58.7bn, compared with $44.3bn), despite its much smaller size.
"We can say that is nonsensical, because Tesla never, ever reported a profit and maybe produced 10 to 20,000 cars, while these guys produce six million cars a year. But people are looking to the future," said Mr Azmy. "Nobody cares about legacy. It's about your ability to deliver futuristic products that are not necessarily what you are producing today."
In recent years, ASGC has employed a chief transformation officer, a chief information officer and a head of IT security, as well as adopting a range of technologies from drones to RFID and biometrics to improve business processes. Enterprise Resource Planning (ERP) software is used throughout the company's operations, as is building information modelling (BIM) software to tender, procure, monitor and handover construction projects.
He said the ERP systems give ASGC "better business intelligence".
"An old, legacy system will tell me how many cubic metres of concrete we poured and how many labourers we had on site. But to match labour productivity to concrete supply, and to tell me that this labourer worked so many hours on this project, and these are the elements he cast … manually, to do that for 15,000 people is very difficult. But doing that on an integrated system is easy.
"I know which engineers are more efficient than others, I know which projects [have] better efficiency, I know which supplier and subcontractor have given me products that are less defective than others, because everything is monitored."
The company also uses drone technology for site planning, as well as project monitoring and documenting, while surveying work is all done digitally and workers gain access to sites biometrically.
Mr Azmy said that the contractor plans to continue with its "integrated" business model of bidding for general contract work and servicing through its own company divisions that carry out MEP contracting, fit-out work, ready-mix and precast concrete supply and structural steel work.
He said that this model helps the company to improve its margins, gives it better control over its supply chain and generates external revenue, with about 30 per cent of its anticipated sales of more than US$1bn (Dh3.67bn) for this year generated by the various business units and 70 per cent by the main contracting business.
ASGC is busy on projects including the new Dubai Arena, Mohammed Bin Rashid Library and the Bluewaters Island project. Mr Azmy said that it specifically targets work where it believes it can add value – either by solving an engineering challenge or meeting a time constraint.
"If you're building a plain, vanilla building – one or more – probably it's more efficient for you to go to different-natured contractors who will deliver to you, acceptably, what you want for a price that is probably more efficient. We stay away from those projects, because it does not make sense."
Vivek Kale, a solutions director for construction software specialist Bentley Systems, said that he had been involved in case studies where contractors who adopted building information modelling (BIM) software "gained significant savings in absolute dollar value would vary from 2 per cent to 7 per cent of the project's construction costs".
For example, he said that the joint venture contractors delivering the Midfield Terminal Building in Abu Dhabi were able to reduce the number of estimators than would typically be used on a project of that size by more than 80 per cent, but still benefited from more accurate information being generated.
Curtsey :thenational.ae