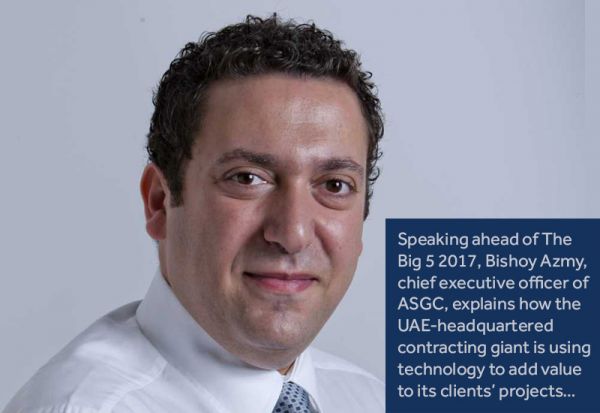 CW: How would you assess levels of demand within the UAE's contracting segment at present?
Bishoy Azmy: We are positive about the future. Overall, we feel that investor confidence and improved cash flow among developers have encouraged the sector to advance exciting project plans and market releases.
Moreover, the UAE's visionary leaders are steering the country in a very strong direction, and this has increased confidence in the real estate and construction sector. Safeguards and realty rules introduced by the government are intended to prevent market saturation, and we welcome them. We are confident that Dubai will further strengthen its position as the preferred destination for investment in the Middle East, and that real estate here will continue to be attractive to investors.
Large-scale investments in infrastructure and tourism – especially in the run-up to Expo 2020 Dubai – continue to create jobs and positively impact growth. We strongly believe that serious buyers will continue to make sound investments that provide value and sustainable returns on their investments.
READ: UAE's ASGC to implement BIM in all its departments
CW: How has business been for ASGC in the UAE during the past year?
BA: The last year has been a very good year for us, as we recorded healthy double-digit growth. We are also working on interesting projects, and we are developing the company in terms of systems, procedures, and technology. In addition, we are being supported by a few strategic staff additions – people with different experiences and visions. And of course, we are adding more projects to our portfolio.
CW: In which market segments are ASGC's services currently in highest demand?
BA: Today, ASGC supports a wide variety of projects in fields ranging from residential and hospitality through to social infrastructure and healthcare. I would say that there is particularly strong demand for commercial projects, whether office buildings or retail shopping areas. The current trend is to develop these projects in new urban areas, such as Dubai South and Dubai Creek. Such developments will benefit from the expected rise in visitors and residents during the coming years.
CW: What are ASGC's plans for The Big 5 2017?
BA: At this year's edition of The Big 5, ASGC will be advising clients on how to enhance their projects by seeking out high-quality products, using the latest technologies, and anticipating logistical, procedural, and budgetary concerns throughout the development lifecycle. We will also be speaking to guests about innovations within project controls, such as 4D building information modelling (BIM), virtual spaces, drone systems, and 3D printing.
CW: What are ASGC's priorities in the UAE for 2018?
BA: We are committed to staying agile in an evolving industry, particularly given the global economic and political shifts that are currently taking place. At the same time, the outlook for ASGC in 2018 is positive.
There are several major Dubai-based projects that are in the planning phases in key districts, such as Dubai South, Business Bay, Dubai Creek, and more. ASGC also expects to see an increase in construction and real estate investment activity in Abu Dhabi, especially as the emirate expands its business and cultural offerings for the international market.
To meet this opportunity, we are investing in innovation, especially within the field of technology. We understand that every single industry will go through massive digital disruption over the coming years. That's why we appointed our first chief information officer in 2017, for example, to help the company in the adoption of new technologies that will add value to ASGC's partners, customers, and employees.
When you visit us at The Big 5, you will see how we are already bringing technological leaps that boost efficiency, quality, and safety, to construction projects across the UAE.
Source: www.constructionweekonline.com