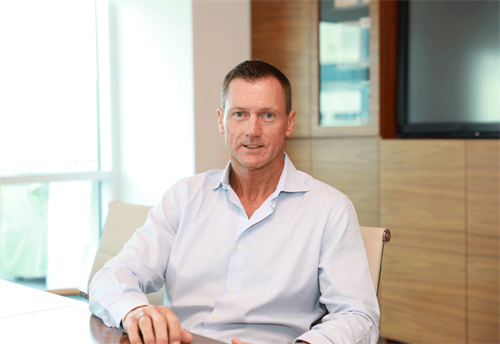 Herbert Fuchs, chief information officer at ASGC.
Dubai-based construction company ASGC is investing part of its annual turnover into disruptive technology – a move helping the firm remain competitive.
The company wants to be at forefront of the next industrial revolution by integrating digital systems in each phase of its business and operations, and this is reflected in the hospitality schemes it is currently working on.
Herbert Fuchs, chief information officer at ASGC, tells Construction Week that the contractor uses technology to continually improve the performance of its projects, be they in the residential, commercial, retail, industrial, or hospitality sectors.
"ASGC is integrating the use of disruptive technology into its operations and will continue to do so for future infrastructure, hospitality, and project work," he says. "For such projects, ASGC uses Internet of Things (IoT) solutions so that all the physical assets of the project will be sending information through sensors in real time."
He says ASGC is using drones to help its project teams stay up to the date with site progress by monitoring work from a bird's eye view.
"In the past few months, we have worked to increase the deployment of drones and 3D scanning across our project portfolio. These are two technologies that are set to revolutionise and streamline the construction process.
"The inclusion of these highly advanced solutions in the construction industry comes as part of our technology–driven strategy, fronted by our team. We also use virtual reality to build mock-ups for hotel rooms, which allows one to see the choice of material finishes and colours in virtual space instead of physically building mock-up rooms on site."
The company spends around 5% of its annual turnover on internal digital transformation projects, and drones are just the start of it. Other areas it is exploring include radio-frequency identification and biometrics, optimisation of labour productivity and site safety by using IoT systems, artificial intelligence, and analytics. ASGC's digital exploration has seen it tap into cloud-based technologies and end-to-end integrated cost control systems. The ongoing push is part of a planned digital revolution at ASGC, and the company says this digital-first approach has been put to the test on its hospitality projects.
Earlier this year, ASGC started work on the 25hours One Central hotel, located within Dubai World Trade Centre's One Central development. Upon completion in 2020, it will be one of the largest 25hours Hotel properties in the world, as well as France-headquartered AccorHotels' first property in the Middle East.
The project has seen ASGC deploy its technology-driven strategy into practice, Fuchs explains: "Construction works on the site feature ASGC's technology-driven strategy, using solutions such as drones with high-definition closed-circuit television and 360° video-capturing systems to monitor progress."
One of ASGC's latest hospitality projects, in addition to the 25hours One Central Hotel, is the Taj Hotel in Jumeirah Lake Towers. Set to complete in Q4 2018, ASGC's scope includes building a 44-storey structure that has 280 rooms, residential apartments, a car park, café, and gym, as well as other hospitality amenities.
ASGC was recently also awarded a Wasl contract to be the main contractor for two Aloft Hotel and Element Service Apartment Buildings, with a total number of 518 rooms. Located in the Dubai neighbourhoods of Garhoud and Al Raffa, ASGC's scope includes civil construction, landscaping, and associated works.
ASGC's other hospitality-facing projects include the luxury Waldorf Astoria Palm Jumeirah for Dubai National Investment Company (Al Habtoor Group), where its scope includes the construction of a main building, villa, beach restaurants, and sector block, alongside sports and recreational facilities, as well as external works. ASGC was also awarded a contract to work on Abu Dhabi Marina Bloom, which features an interwoven design comprising hundreds of luxury residential apartments and a five-star Marriott Hotel with 200 rooms.
Fuchs says "lots" of hotel projects are kicking into gear in the UAE, which will "bring new dimensions to the [country's] already strong hospitality market" during the next 12 months. One only needs to look at ASGC's pipeline to recognise the potential.
He adds: "Amongst these are more hotels that cater to targeted markets, including two-, three-, and four-star properties. This will create a landscape that will appeal to most visitors to the Emirates, and suggests that there are exciting times ahead for the sector next year and beyond."
Source: www.arabianindustry.com