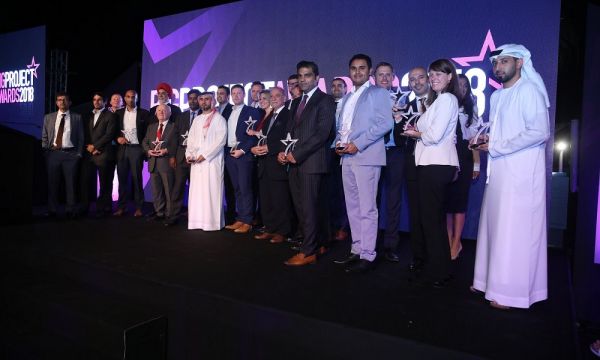 The 2018 edition of the Big Project ME Awards took place on November 26, 2018 at the Double Tree Hilton in JBR, Dubai. The event attracted a crowd of more than 250 construction industry professionals, with CEOs, managing directors and other senior level figures all in attendance to celebrate the best of the construction industry for the year.
Having grown into one of the most recognized and well-regarded award nights in the construction industry, this year's event featured submissions from a range of contractors, consultants, subcontractors, developers, suppliers and manufacturers from across the GCC and MENA region.
This year's awards saw more than 130 nominations filed for consideration across 21 categories, with several high-profile and prestigious projects, contractors and developers vying for the biggest prizes on the night. Amongst the nominees for the awards were local government authorities and bodies, such as Sharjah Electricity and Water Authority.
"The quality of entries this year has been fantastic, and I would like to offer my congratulations to all of those who took part – especially to the winners and runners up!" said Raz Islam, managing director of CPI Trade Media, the organisers behind the event and the publishers of Big Project ME magazine.
This year, the Contractor of the Year Award went to the Dubai-based contractor, ASGC; while the Project of the Year went to the Louvre Abu Dhabi, which was submitted by BuroHappold.
ASGC was awarded another title at that same evening, Skills Development of the Year Award, after being shortlisted with her fierce competitor ALEC.
The judges for this year's event were: Paul Wallet (Trimble), Morgan Tuckness (Drees and Sommer), Craig Finlayson (Currie & Brown), Nicky Dobreanu (C-Quest), Steven Batchelor (F+G), Carolina Fong Guzzy (Accienta), Jesus Sancho (Acciona), and Anil Menon (CKR).
Contractors Awards – Contractor of the Year Award – Shortlisted Companies
ALEC
ASGC (Winner)
China State Construction Engineering Corporation Middle East
Company Awards – Skills Development Programme of the Year Award – Shortlisted Companies
ALEC – Boost Programme
ASGC – ASGC Academy (Winner)

Source: meconstructionnews.com