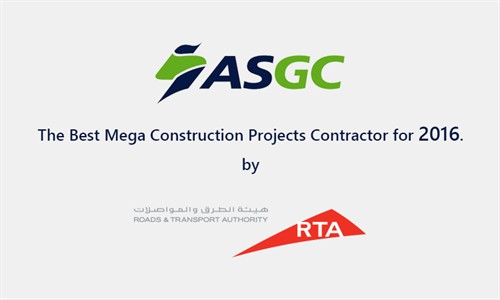 Dubai, UAE - Al Shafar General Contracting Company (ASGC), a leading and award-winning UAE construction group, was the recipient of the Roads and Transport Authority's Best Mega Construction Projects Contractor Award. The award was presented by Mohammed Obaid Al Mulla, Board Member of the RTA's Board of Directors, and received by Abdul Aziz Mohamed Bin Shafar, Vice President and Executive Director of ASGC, during the RTA's Outsourcing Companies and Vendors Award 2016.
"Al Shafar is an Emirati company, deeply committed to helping the UAE's leadership achieve their aim to create a dynamic, thriving economy and a cohesive, tolerant society. We are a key player in the UAE's drive to develop the urban infrastructure required to sustain a diversified nation that is as loyal to its proud heritage, as it is ambitious for the future. As a business, we want to continue delivering large-scale, complex projects that demonstrate our strengths and capabilities," Abdul Aziz Bin Shafar said. "We are proud to receive this valuable recognition of our successful partnership with the RTA, and we are looking forward to continuous cooperation, with the aim of achieving mutual prosperity and raising the profile of the UAE as a strategic global destination."
In 2015, ASGC was awarded an AED 600 million contract from the RTA to build the Etihad (Union) Museum in Dubai, the national cultural centre inaugurated in December 2016 by HH Shaikh Mohammad Bin Rashid Al Maktoum, Vice-President and Prime Minister of the UAE and Ruler of Dubai, in December 2016. The Museum is designed in the shape of a manuscript with seven columns that simulate the pens used to sign the declaration of the union in 1971. The museum includes permanent and temporary halls, a theatre, educational and recreational areas and administration offices. In addition, the corporate identity of the museum which was inspired from the colours of the national flag, federal identity and the seven emirates.
Since 1989, ASGC has built a reputation for excellence and quality, delivering commercial complexes, high-rise buildings, hotels and resorts, industrial projects, and landmark social infrastructure developments. In addition to undertaking large-scale construction projects, ASGC offers a number of related construction products and services, including mechanical electrical and plumbing services, steel structure, ready-mix concrete and pre-cast products, as well as interior fit-outs through a number of subsidiaries.
For the past 28 years, ASGC has worked on more than 280 projects and has developed a deep understanding of the local construction market with a reputation for consistently delivering high-quality projects. ASGC clients include Meraas Holding, Dubai Properties, Bloom Properties, Emaar, Mediclinic, Wasl Asset Management, Nestle, Al Habtoor Group and IFA Hotels and Resorts. Government clients include the RTA, Dubai Police, Dubai Municipality, Dubai Aviation Engineering Projects, Dubai Airports, Abu Dhabi Health Authority, and ADNOC.
Courtesy: zawya