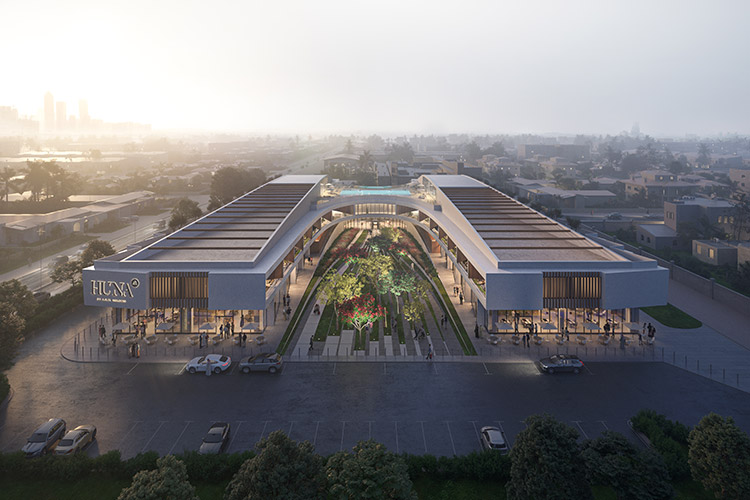 A.R.M. Holding has appointed ASGC Construction as the main contractor for the construction of the H Residence, a unique concept of mixed-use development in the UAE. ASGC Construction is a leading vertically integrated construction conglomerate focused on complex and sustainable buildings.
Following a groundbreaking ceremony for the new development earlier this year, A.R.M Holding has partnered with leading architecture and design firm, Tariq Khayyat Design Partners (TKDP), to deliver the H Residence project.
The H Residence model is articulated through three main elements: two arched wings housing 37 duplexes and apartments, connected via an activated sky bridge overlooking a magnificent landscaped central plaza.
The 30-meter sky bridge will host the building's major recreation area, with the most prominent feature being an infinity pool that caters exclusively to residents, adorning the roof of the bridge and offering breathtakingly uninterrupted views of the Dubai Skyline above and the gardens below.
The central plaza, the heart of H Residence, is gently sloped and lavish with tall trees and elegantly tressed hedges and serves as a communal area for the enjoyment of residents and visitors from the surrounding Al Wasl community. As the main artery of the development, the plaza allows access to retail units, the drop-off back area, as well as direct connection between the entrance on Al Wasl Road and the building's lobby.
"We are delighted to be working with A.R.M. Holding and all affiliated stakeholders on the development of this unique top-quality addition to Dubai's urban landscape, which will undoubtedly deliver a world-class experience to future tenants", said Sameh Fam, Managing Director of ASGC Group.
Mohammad Saeed Al Shehhi, CEO of A.R.M. Holding, said: "As an enterprise focused on enabling prosperity, A.R.M. Holding is vested in purposeful developments that invigorate the city while fostering community ties. H Residence demonstrates a true understanding of Dubai, having sourced its design and function from the needs of the emirate's diverse communities."
The design of H residence incorporates fundamental sustainability elements within the architectural layout. The façade is fitted with vertical louvres, giving the building its signature look, and allowing residents the enjoyment of temperature controlled shaded spaces overlooking the central plaza and the surroundings in complete privacy. The position, scale and number of the louvres were carefully assessed to create a balance between the shaded balconies and natural daylight without compromising on the views and overall experience.
About ASGC Construction
ASGC is a vertically integrated construction conglomerate that is best known for delivering turnkey special projects in the UAE and have business operation in Egypt and the UK. Over the last three decades, ASGC has delivered landmark construction projects across diverse sectors such as residential, commercial, leisure, hospitality, social infrastructure healthcare, oil & gas, education, industrial and aviation. ASGC has grown to become a key player in the UAE's construction industry through its commitment to reliability, in-house capabilities and customer dedication.