Sustainable Construction. Building Lasting Legacies.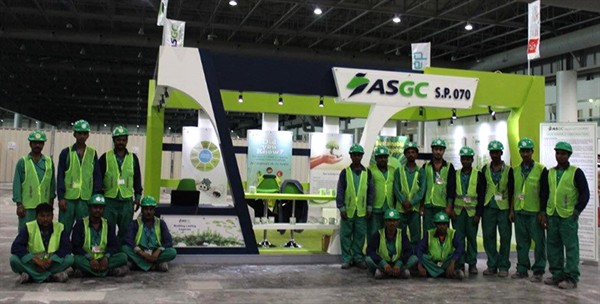 Last week ASGC participated in the 7th Annual DAEP Environmental Awareness Campaign at Al Maktoum International Airport.
This annual awareness campaign aims to promote Environmental awareness amongst all DAEP contractors deployed at both Dubai and Al Maktoum International Airports. This year event focused on raising awareness on Sustainable construction practices and its positive impact on the Environment.
The awareness campaign created a platform where each contractor could set up a stand displaying in their unique way how sustainable construction practices can be developed and improved through sustainable work methods, recycling efforts, special products and/or services.
By concentrating the event at a single location, the benefit of each display contributed to positive information sharing on the campaign theme amongst all contractors' management and staff who was visiting the event. Invited external entities were requested to participate based upon their past involvement with DAEP campaigns and/or the unique products or services they provide that could contribute towards increasing awareness about sustainable work practices.
The prime focus of the event remained on knowledge sharing and, in addition to contractors meeting their annual KPI of participating in the DAEP Environmental Campaign, every possible opportunity was extended to all contractor management staff to visit the event to allow them to gain knowledge from program presentations, the different displays set up by the contractors and external entities and the chance to experience the spirit of positively developing general Environmental awareness.
The event remains an in-house event and was not open to the general public. DAEP, their Consultants, airport stakeholders, approximately 20 different contractors and 10 external entities were participating in the event and the estimated visitor count was more than 2,000 people.
Courtesy: DAEP