Another year in the TOP 10 of the Construction Week Power 100 - the ranking of the most influential individuals working within Middle East's construction Sector!
Mr. Emad Azmy, The President of ASGC climbed 2 places since 2017 Construction Week's Power 100, ranking number 4 this year.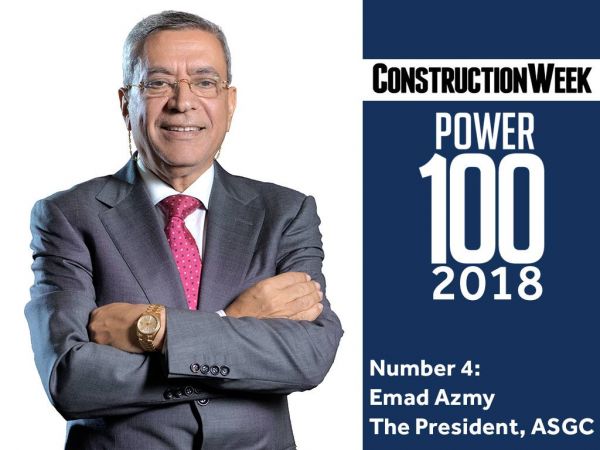 As president of ASGC Construction, Emad Azmy is leading the company as it continues to expand and invest in its more than 11,000-strong workforce. "The key initiative for 2018 is the launch of ASGC Labour Training Academy," he says.
"The academy [delivers] training and knowledge upgrade for all of ASGC's workforce. It hosts new joiners for job training; health, safety, and environment training; and development training programmes for workers and supervisors, which lead to career progression."
Prioritising professional development is a strategy that appears to be delivering results, as ASGC's recent portfolio of projects, for which is was engaged as main contractor, includes the AED800m ($217.80m) City Walk Phase 2, the AED300m ($81.67m) Green Community Expansion Phase 1, and the AED1.46bn ($398.02m) Bluewaters Island project in Dubai; the AED608m ($165.42m) Bloom Marina in Abu Dhabi; and the AED63.10m ($17.18m) Mivida Park Residence and AED97.93m ($26.66m) Festival Living Apartments in Cairo, Egypt.
The company is also the main contractor for ongoing projects that include the Six Flags Dubai theme park, Mohammed Bin Rashid Library, Dubai Arena, the Dubai International Airport improvement works project, Mediclinic Park View Hospital, One Central H2B Hotel, and the Green Community expansion.
Moving forwards, Azmy says that ASGC will look to diversify into projects within the infrastructure space, and to expand its business in Africa. While the UAE and Egypt remain two of the most important markets for the firm, geographies such as Angola, Kenya, and Ghana are also the focus in 2018.
"The challenge is to continue to distinguish ourselves as a leading contracting company specialised in the construction of large-scale and iconic projects," says Azmy, adding that ASGC will "continue to be selective about the scale and nature of the projects that we pursue".
Read the full ranking: power100.constructionweekonline.com